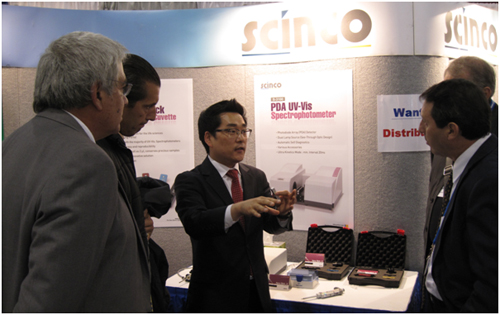 SCINCO participated in PITTCON 2013, held in March 17 - 21, 2013 Pennsylvania Convention Center, USA
We had many scientists and researchers from all over the world and they showed a lot of interest in our instruments, PDA UV-Vis Spectrophotometers, S-3100, Double Beam UV Vis Spectrometer, Neosys-2000, Fluorescence Spectrometer, FS-2. Esp. our new product of Nano Stick attracted visitors attention during the whole exhibition period, which is a dedicated nano cell to measure the micro volume of sample for DNA, RNA and Protein analysis.
Also we had meetings with our representatives from each country and it was a good opportunity to discuss the future business plans and to have a short session to introduce new products and applications.
Here we appreciate all our visitors for their time with us at the PITTCON 2013.